Gay New Worlds Romance Bundle: MM Gay Paranormal and Sci-Fi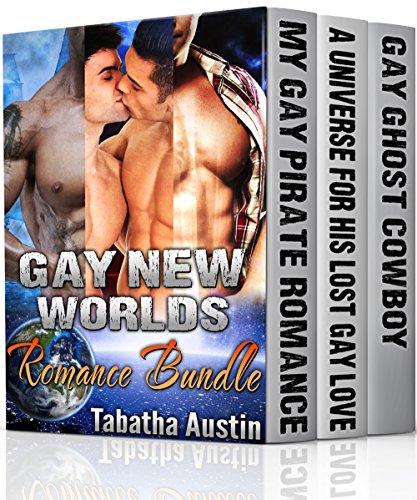 Genre: Gay Paranormal/Sci-Fi Boxed Set - Short Gay Romance Bundle
Overview
Genre: Gay Paranormal/Sci-Fi Boxed Set – Short Gay Romance Bundle
Three separate stand alone stories of visitors to strange new worlds and the gay romance they find.
Whether it's a man time-traveling back to the Golden Age of Piracy, a search for a man's long-lost love in a alternate universe, or a gay cowboy ghost satisfying his urges after 150 years of waiting, every one of these men will know sensual pleasures only possible after traveling to a strange new world.
This 34,800+ word, quick and steamy gay romance bundle includes: My Gay Pirate Romance, A Universe For His Lost Gay Love, and Gay Ghost Cowboy.
---
My Gay Pirate Romance
When a lonely museum worker finds a mysterious ring among the smashed ruins of an ancient ship's wheel, the last thing he expects is to be sent back three hundred years to the Golden Age of Piracy — straight onto the deck of a real life pirate ship.
Soon he finds himself in a time when men were men and took whatever they wanted – even if that meant another man. Because as much as history likes to wash over the details, many a gay pirate sailed the seven seas.
Surrounded by a desperate crew in the middle of the ocean, will he find a way back his own time before the perils of pirate life catch up to him? And after a lingering encounter with the infamous Captain William Roberts, will he want to?
---
A Universe For His Lost Gay Love
Five years ago, Albert lost everything that mattered. His life, his true love, his only chance at happiness… all gone because he couldn't admit to being gay. He would give anything to know what his life could have been.
Now, thanks to a portal with the power to transport him to parallel universes, he has an opportunity to find out. He's got the chance to see what would have happened if he had only come out and said yes.
All he has to do is step through.
---
Gay Ghost Cowboy
Mallard Manor has a reputation in the ghost-hunting world, and that's not an opportunity James is going to pass up. When he arrives, he finds exactly what he's looking for… and so much more.
Willard Mallard, the house's namesake, has been trapped between worlds—locked within the confines of the house—for over 150 years. And he's got pent-up urges that need to be relieved.
Now, it's up to James to give the well-endowed cowboy the release he never felt in this world and help him move on to the next.